Advantages of Vendor Managed Inventory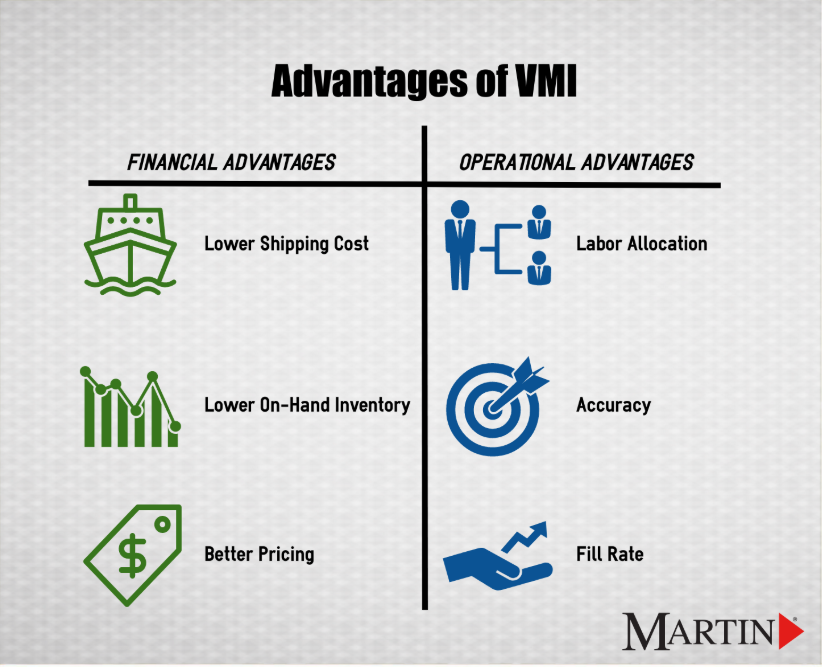 As competition increases and dollars are squeezed by corporate management, every manufacturer looks for an edge.  In today's environment manufacturers must focus 100% of their attention on their value stream and allow distributor service providers to support them in order to optimize the supply chain.
Vendor Managed Inventory (VMI) is one of the best tools for manufacturers to utilize. VMI makes sense in several plant areas, and at the top of the list is the responsibility for the management and maintenance of class C component fasteners. Production fasteners are critical to an assembly process and manufacturers are best served by relinquishing control to a trusted partner. The fastener supplied items are distinct from other line of business items due to long overseas lead times, a high degree of required consistency and quality, and their vital role to plant operation. VMI programs benefit both financial and operational sides of the business.
Lower Shipping Cost – By choosing a partner distributor, orders are optimized and economical order quantities are achieved at a lower freight cost.
Lower On-Hand Inventory – With a pull-demand structure, clear minimums and maximums are set to comply with a Just-In-Time strategy, reducing plant-stored inventory.
Better Pricing – The distributor bases the orders from the production schedule and the total supply chain cost is lowered.
OPERATIONAL ADVANTAGES
Labor Allocation – The distributor stocks the line and frees up plant personnel to work on other tasks.
Accuracy – A higher degree of accuracy is achieved. The distributor has the necessary system and operational expertise to ensure that the bins are properly filled.
Fill Rate – VMI helps reduce stockouts with process driven reviews and continuous communication.
Martin is proud to offer customized VMI services.
Contact us today to discuss how we can help you operate better.