Choosing the Right VMI Supplier (EQUIP)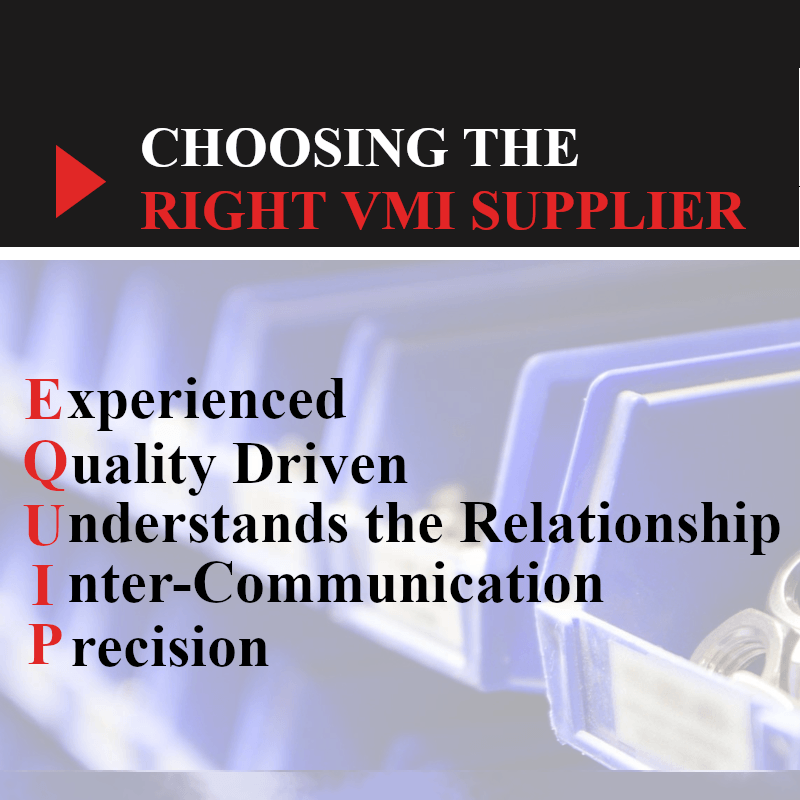 We've discussed in a previous post about the advantages of VMI the value that can be generated from outsourcing the supplying and stocking of your production fasteners with Vendor Managed Inventory (VMI). The most important part of VMI is making sure that the "Vendor" is a good fit. To get the necessary results it is crucial to find the right supplier partner.
There are several qualities to look for before making your choice. If your supplier can EQUIP you then the benefits of VMI will follow:
► Experienced – You want a supplier who has done this before. VMI programs are process driven and must be meticulously managed; it's not a good idea to give the new guy on the block their first opportunity.
► Quality Driven – Quality is important for both the program and products. It's critical that the inventory is supplied in a consistent and timely manner. The supplied parts must function as they are designed and arrive by important deadlines. If either piece falls short production will suffer.
► Understanding the Relationship –A key part of VMI service is the knowledge that the relationship goes deeper than the transactional. A VMI provider is an integral part of the well-being of a plant, and it is vital that both you and the provider feel comfortable and have clearly defined roles and objectives.
► Inter-Communication – VMI is an ongoing process. Inevitably changes or adjustments must be made on a moment's notice. You need a partner who will communicate effectively so that problems are quickly resolved.
► Precision – Accuracy keeps your business running smoothly. With the right products in the right places at the right time, production can be assured that this part of their business is under control.
Martin Fastening has the VMI solution that worked for several of our customers. Learn more about how they can EQUIP your business for success here.