Making Social Distancing Work for Manufacturers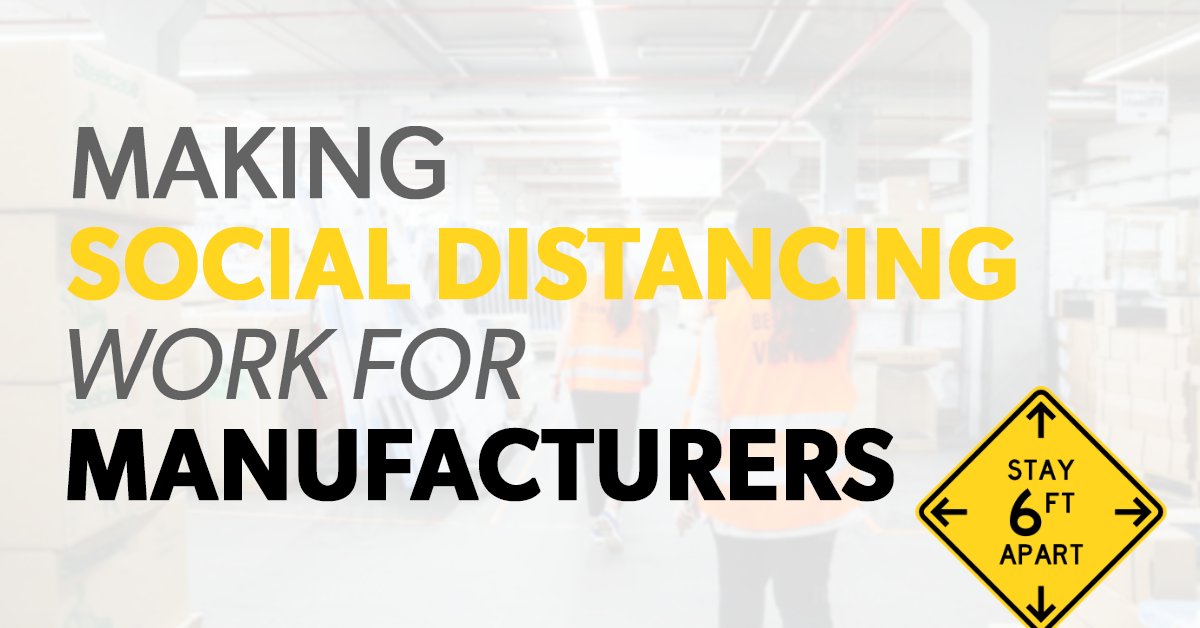 As the United States begins looking at how and when to get back to work, that doesn't mean that social distancing, wearing PPE and taking temperatures will be a thing of the past. In fact, those things will be our new normal. Many manufacturers who have remained operational due to essential business designation have implemented COVID-19 precautions to protect their workforce. However, manufacturers who temporally closed and are looking to reopen may not have their protocols and supplies in place. The challenge facing the manufacturer is preventing the spread based on proximity. You can't build a transformer, car or package paper products while working from home. Therefore, the ability to limit proximity transmission is a big concern. And, since CDC guidelines have recommended 50 or less or at times 10 or less people in one place, manufacturers are wondering what to do with facilities that see hundreds coming in daily, working 8- to 10-hour shifts.
To compound the problem, American manufacturers simply can't shut the doors and close down until the problem passes. With China's production economy crippled and supply chains worldwide suffering disruption, American manufacturing not only has an opportunity, it has a duty to remain functional. Thus, a bigger question arises: can manufacturers continue to operate ethically, while keeping workers safe from possible COVID-19 exposure?
It is possible, but manufacturers need to be swift in enacting modified social distancing policies.
What Can Manufacturers Do?
With remote working off the table and some forms of social distancing not applicable to the manufacturing environment, below are a few other steps manufacturers can take to protect workers:
Train employees to distance themselves by six feet or more whenever possible. This can be done by installing floor signage every six feet and marking the best place to stand.
Arrange the environment so that it limits how close workers can get to one another. For example, remove chairs from the breakroom and set the remaining ones six feet apart. Mark on the floor where the chair should be at all times to discourage someone from moving it.
Remind workers with signage. Put signs on doors, in bathroom stalls and other places to remind workers to wash their hands, to stay six feet apart or the correct way to cover a sneeze.
Take temperatures at the start and end of a shift. A person may feel fine in the morning, but show symptoms in the afternoon.
Have close-proximity workers wear safety masks and gloves as a temporary form of personal protective equipment (PPE).
Install clear, plastic partitions between workers, if possible.
Reschedule non-critical services or have them performed on off-peak hours. Or, outsource services, like repairs and maintenance, if they can be taken off site.
Stagger shifts to reduce the total number of workers present in the factory at one time.
Cut back to floor skeleton crews or reassign workers to isolative tasks where possible.
Make sanitization a priority, with access to disinfectant wipes, cleaning supplies and hand sanitizer.
Social distancing and proper sanitization are proven to limit the spread and viability of COVID-19. One way to instill good behavior is to show workers their efforts are working. Post a sign where workers exit each day showing how many days they have been COVID-19 free. It will not only provide a sense of relief, but reinforce that the efforts they are making to stay safe are paying off.  
Martin has a heart for safety and the well-being of your workers. For all your safety supplies, signage or training needs, contact your Martin Sales Rep or call 800.828.8116.