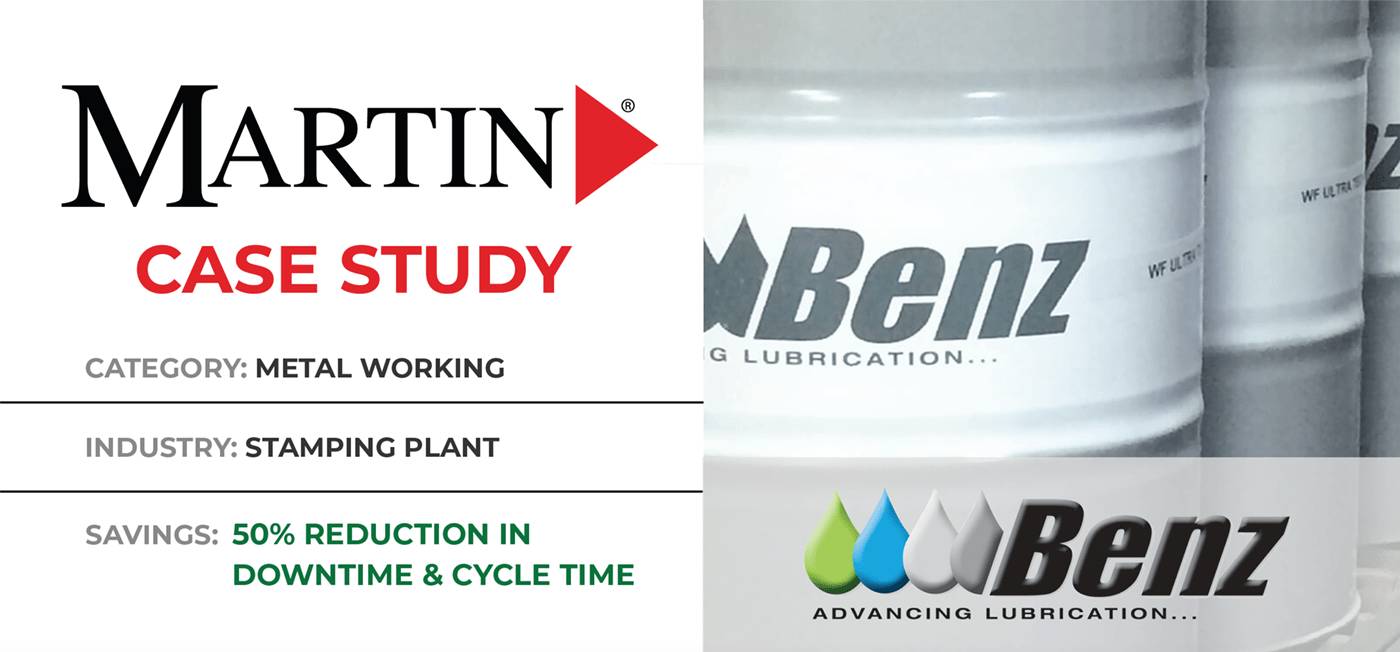 Problem
A Northern Georgia Stamping Plant was using a competitor's coolant at 10% concentration and experiencing foaming issues, which appears to contribute to a reduction in tool life and increased cycle times. Their cycle times were eight hours per die with an added four days due to a third-party heat-treating process. The test machine was a Haas VF4 and the metals machined include A2 tool steel, hardened A2 tool steel (58 Rockwell), and aluminum. The plant's goals were to decrease downtime which is currently 4 days, decrease cycle time which is currently 12 minutes, eliminate the foam and increase tool life.
Solution
Benz recommended the use of BENZ KOOL 1300 to accomplish the customer's goals. BENZ KOOL 1300 is a high-performing semi-synthetic with multi-metal capabilities that are designed to provide optimal tool life and surface finish. The product has shown to be very low foaming in deionized water.
Results
50% reduction in downtime (2 days) allowing production increase due to machine availability. BENZ KOOL 1300 reduced the time through an increase in speeds and feeds and a reduction in machining time to produce a die.
50% reduction in cycle time (6 minutes) due to reduced finish-passes needed and accomplished with an escalation of lubricity to the cutting tool allowing for more aggressive cuts and an improvement in surface finish.
40% faster runs with better tool life, cutting, and tapping capabilities in A2 tool steel mostly due to cooler tools resulting in potential savings of $10,000 per 10 business days.
20% increase in speeds and feeds in hardened A2 tool steel in a post-heat-treating process.
Elimination of foam allowing improved visibility of the production process.