Unorganized storeroom? We can fix that.
Do you have the correct supplies, parts and tools on hand for your operation to run efficiently? An improperly managed storeroom not only has a negative impact on material reliability, it's costing you a fortune in employee inefficiencies, wasted space, lost inventory and increased downtime. Martin can help you transform your current storeroom into a well-organized environment that operates at maximum potential.
Contact us
Reset Calculator
The success of your entire operation relies on the effective management of your MRO storeroom and supplies.
Martin Storeroom Reset Program
Martin's Storeroom Reset Program assesses your current MRO storeroom, provides data-driven feedback on inventory optimization and reorganizes your storeroom for better efficiencies. A well-organized environment contributes to improved plant productivity, inventory management, and maintenance productivity while freeing up working capital. Martin's experts will:
Assess your current state
Collaborate on solutions
Create an organizational plan and workflow accommodations
Reorganize your storeroom
Our goal is to transform your current storeroom into a well-organized environment that operates at its maximum potential.
Contact us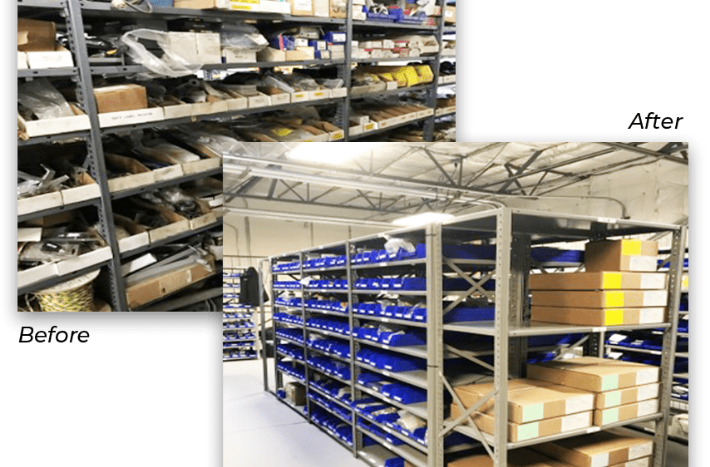 Martin Storeroom Reset Program Benefits
Our simple four-step process uses proven 5S lean management strategies and best practices to help you
achieve and maintain a successful storeroom.
Increase Plant Productivity
Better storeroom management ensures you have the right parts at the right time while improving manufacturing throughput and reducing costs. The first step is to reset your storeroom.
Free Up Working Capital
Our storeroom reset identifies critical, obsolete and excess inventory through enterprise-wide inventory visibility that reduces purchases and sub-stock inventory.
Improve Maintenance Productivity
An organized storeroom reduces the time employees spend looking for parts and provides more wrench time, reducing the Mean-Time-to-Repair (MTTR). We also offer kitting and bill of materials (BOM) capabilities.
Gain Greater Visibility
Our storeroom reset program not only organizes your storeroom for improved inventory accuracy and optimized ordering controls, but also provides labeling and barcode capabilities for enhanced material visibility.
Storeroom Reset Program Case Study
We help companies save time and money with professionally organized storerooms.
To learn more, read one of our success stories.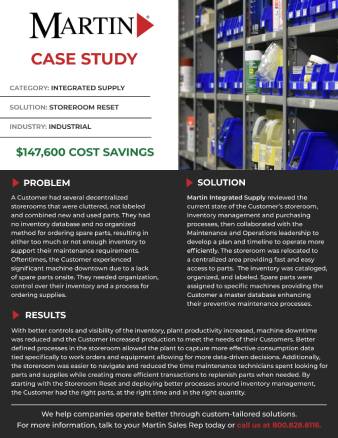 Cost Savings $147,000
Storeroom Reset
A Martin customer had several decentralized storerooms that were cluttered, disorganized and lacked an inventory database. Martin reviewed the current state of the storeroom, as well as inventory management and purchasing processes to develop a storeroom reset plan and timeline that improved inventory visibility for increased productivity and reduced downtime.
READ MORE