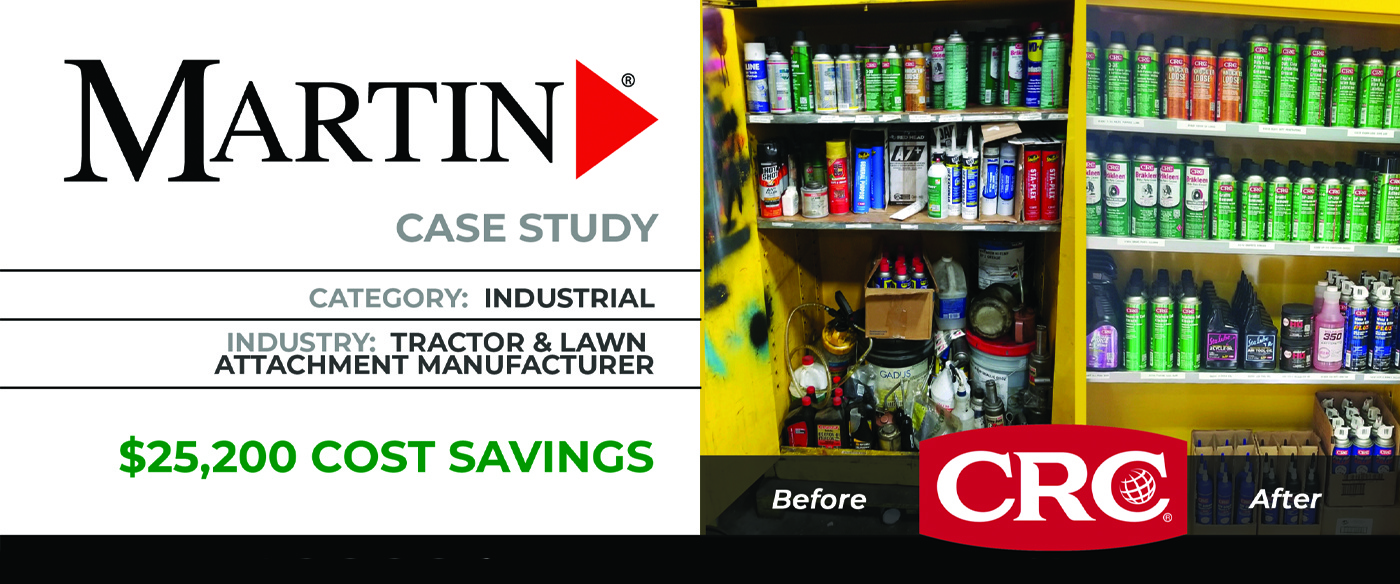 Problem
A Tennessee manufacturer with a focus on large construction equipment attachments and smaller lawn mower deck attachments requires significant amounts of welding among numerous stations in the production process. This facility also requires MRO maintenance for both production equipment and the facility. General maintenance chemicals help facilitate these requirements whether it be for the building, equipment, or general operations. However, this particular business lacked the necessary chemicals for its MRO requirements and the chemicals required for efficient welding of its products. Additional problems were found with equipment corrosion in the final assembly and packaging process.
Solution
After surveying both the existing flammable cabinet and touring the plant, different chemical needs were identified and solutions were provided. Nineteen chemicals were converted to CRC and two welding anti-spatter products were added to the product mix.
Results
Cost savings were identified in four key areas:
1.  CRC is the only chemical manufacturer that provides SDS on the back label of the can result­ing in a documented compliance savings of $400 due to the conversion of the flammable cabinet.
2.  Training of 20 maintenance and production employees regarding Aerosol Chemical Safety. CRC provides free training but can document a cost savings of $1800 ($90.00 x 20).
3.  SP-3S0TM Corrosion Inhibitor was added to the chemical mix for the purpose of protecting metal cylinders used in final production and packaging. Fifty cylinders at $200 each were slated for possible disposal due to corrosion rendering them unusable resulting in a cost savings of $10,000.
4.  The use of Weld-Kleen® 350 Anti-Spatter was implemented in the welding process. Elimination of welding spatter results in decreased grinding labor before the downline paint process. Labor calculated= .5 hours x $25/hr. per equipment piece x 20 per week x 52 weeks/year.Total= $13,000 in labor cost reductions.
CRC has the ultimate chemical solution for any manufacturing or MRO need. We also utilize our Value-Added Risk Reduction Partnership Plan™ with distribution to improve our key end-user's overall management of their MRO chemicals and to provide them with documented cost savings.