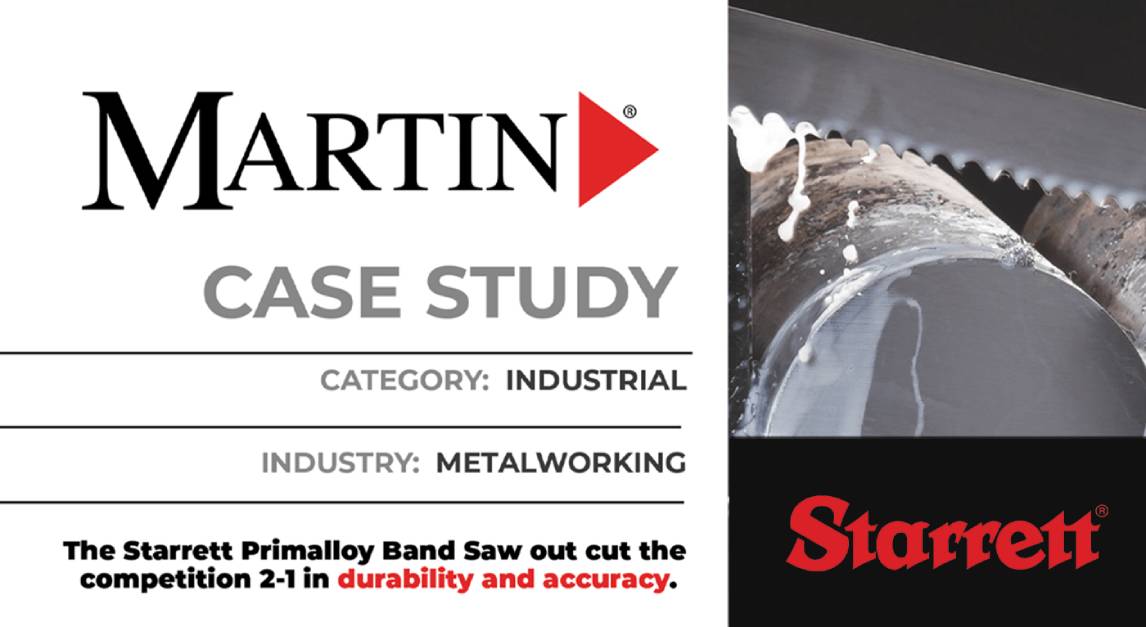 Problem
A Customer was using an M42 Bi-Metal Band Saw to cut difficult cutting materials like precipitation hardening stainless steels, high-alloy tool steels, and nickel alloys. Typically, this type of saw is not very effective when used on these types of materials. An M42 Bi-Metal Band Saw generally works well cutting general-purpose metals such as aluminum, nonferrous metals, alloy steels, carbon steels, stainless steels, structural steels, and tool steels. Over time and through frequent use on tough-to-cut materials, the M42 Bi-Metal Band Saw cut less accurately, had less operational life, and was inefficient. The Customer had to change the blade more frequently due to slower cutting and performance which resulted in an increase in overall operating cost. The Customer needed help finding the right blade solution to get the job done correctly, efficiently, and cost-effectively.
Solution
The Customer switched to the L.S. Starrett Primalloy Band Saw designed for heavy-duty cutting applications. The cutting performance of high-speed steel was greatly increased because the saw was alloyed with cobalt and vanadium. These alloying elements substantially increased heat and wear resistance. The Primalloy Saw:
Provided superiority in overall wear and operating life without the expense of carbide tip solutions
Had and increased the fatigue life of the blade due to an Extended Life Treatment (EXT) being applied to the alloy steel backing material
Minimized blade replacement and cut costs resulting in steadier production
Results
The L.S. Starrett Primalloy Band Saw out cut the competition 2-1 in durability and accuracy. It was an excellent choice for cost-effective production cutting of solid or heavy-walled materials that have work hardening or abrasive characteristics such as nickel alloys, austenitic stainless steels, and tool and die steels without the expense of carbide tip solutions. The longer blade operating life minimized blade replacement and provided a cost-effective solution of cutting of material with low machinability.