Martin Adds Trainer-On-Demand to Vending Machine Offerings
FLORENCE, AL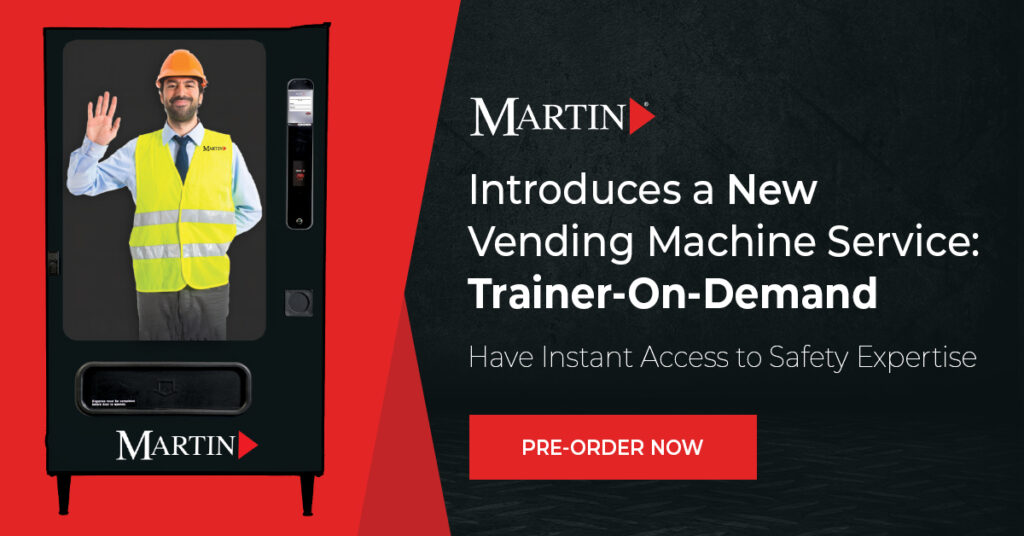 ---
Martin, one of the nation's leading providers of custom-tailored solutions for maintenance, repair, operation and production supplies (MROP) and industrial vending solutions, is excited to announce the latest addition to its already impressive lineup of offerings – Trainer-On-Demand. This revolutionary new industrial vending machine option will now allow plant managers to access human safety trainers whenever they need them, at the touch of a button or swipe of a card.

Instead of just getting a pair of safety gloves or pack of batteries, plant managers can now have access to an OSHA Certified or Certified Safety Professional who will be able to provide training and expertise on the spot.
Need help with PPE Fit Testing? Press the button and a Martin's Trainer-On-Demand will be dispensed right into your facility.

Is OSHA arriving in two days and you need an OSHA 10-Hour General Safety Training? Simply swipe your card and Martin's Trainer-On-Demand will head straight to the training room.
This groundbreaking new vending machine option is perfect for those times when you need a little extra help or just a good laugh. Our trainers are carefully selected to not only provide top-notch training but also to keep you entertained while you work. From stand-up comedy to motivational speeches, our trainers are sure to keep you in stitches. So, if you're tired of boring old vending machines that only dispense PPE and cutting disks, then it's time to upgrade to Martin's Trainer-On-Demand.
Trainer-On-Demand will be available on April Fool's Day.