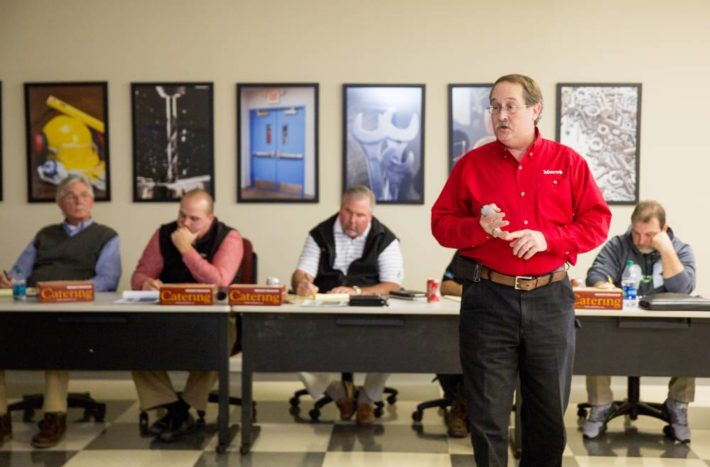 We Take Safety Seriously
No matter where you are in the United States, Martin helps companies operate better by training workers, supervisors, contractors and anyone in your business who needs to know about important safety issues. Our trainings are custom-tailored to fit your company's safety requirements and achieve OSHA compliance.
Martin uses the U.S. Code of Federal Regulations for General Industry (29 CFR 1910) to improve your organizational safety and compliance. All of our trainings and processes are documented and presented in compliance with OSHA requirements. Isn't it time to rethink your safety program?
Schedule your training or inspection today.
CONTACT US
Safety Training Courses and Inspections
Martin offers training courses and inspections designed to train workers and supervisors to work safely and more productively. Whether it's a standard training program or one designed for your needs, we can help you operate better through specialized education and training, in person or virtually.
Disclaimer: Martin training classes have been designed to assist you in complying with OSHA regulations. The materials provided are intended to be accurate and helpful, but are not meant to be a substitute for  OSHA regulations. It is impossible for any training to cover every aspect of OSHA regulation; therefore, our training cannot cover everything a person should know about a particular subject, nor can it qualify anyone as a "competent" person. Martin, its affiliates, and their respective employees, contractors, directors, officers, successors and assigns (the "Martin Parties") make no warranties or guarantees, express or implied, assume no responsibility or liability of any kind related to the training being provided. The Martin Parties specifically disclaim responsibility for any liability, loss, injury or risk which is incurred as a direct or indirect result of the material or services included in or omitted from this training or the use thereof.
Martin Safety Training Courses and Inspection Benefits
At Martin, we help our customers create a safer and healthier work environment, while improving compliance and
productivity through education, safety training and preventative inspections.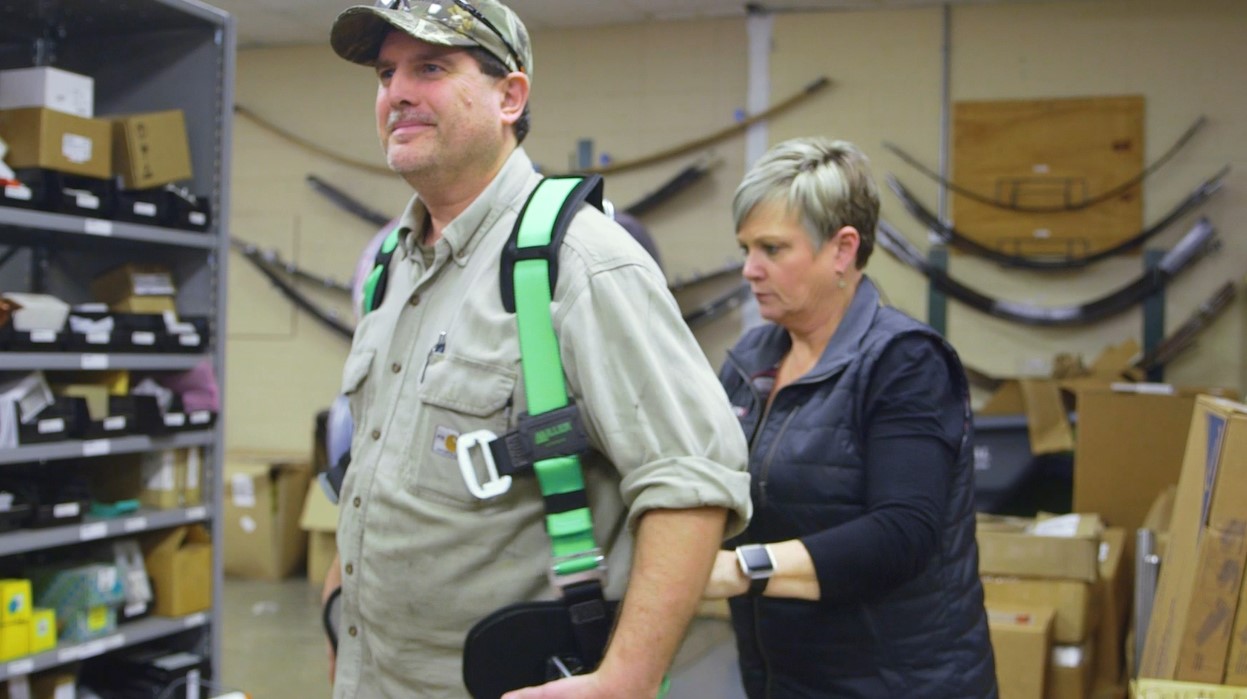 Improve Worker Safety

Our safety experts can standardize your PPE needs while providing the proper protection and training for your employees.

Achieve Regulatory Compliance

Our assessments uncover potential hazards to create recommendations to reduce injury and eliminate safety violations, helping you stay in line with safety regulations.

Achieve Cost Savings

Our documented safety trainings and inspections help you examine the full scope of your work, identify areas for improvement and develop a plan for action.
Meet Martin's Safety Instructors
Kim Deason, QSSP
Director, Solutions Plus
Kim has been in business of keeping employees safe for over 15 years. Kim is a Qualified Safety Sales Professional, a Certified Instructor for Competent Person in Fall Protection, 10-Hour and 30-Hour OSHA trained, and a Certified Safety Equipment Expert (Blue Shield).
Kim takes the guesswork out of choosing the right safety products, equipment and trainings by learning about your unique challenges and conducting a detailed audit of your operation. Kim specializes in hand protection audits, hearing conservation programs, fall protection equipment inspections, respiratory fit testing, and assistance with Lockout/Tagout. She's a thorough and enthusiastic trainer that is passionate about training teams how to properly select, fit, and maintain their PPE.
Alisyn Jackson, QSSP
Account Manager, Solutions Plus
Ali, an experienced trainer and educator, is passionate about safety. She is a Qualified Safety Sales Professional, a Certified Instructor for Competent Person in Fall Protection, and is a Certified Safety Equipment Expert (Silver Shield). An enthusiastic problem solver and tenacious learner, Ali is highly-focused on creating custom-tailored solutions that fit the individual needs of her customers. She specializes in fall protection equipment inspections, eyewash station inspections, 5S, and hand protection audits. She is dedicated to helping customers clearly identify their pain points, proposing viable, thorough plans, and offering support for implementation, maintenance, and continuous improvement.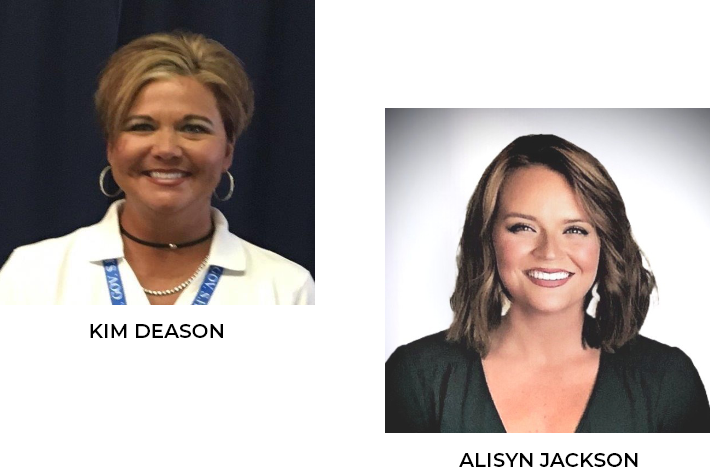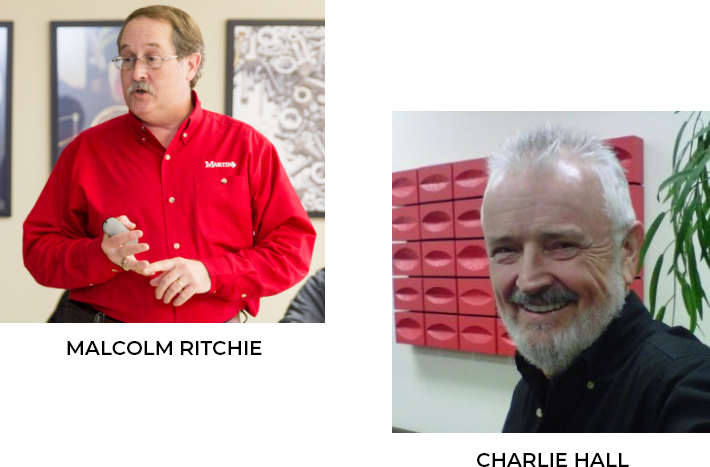 Malcolm Ritchie, BS, QSSP, HMTRI
Authorized OSHA Outreach Instructor
Malcolm has been teaching companies how to operate safely and stay OSHA compliant for more than 25 years. Malcolm is an Authorized OSHA Outreach Instructor, a Hazardous Material Training and Research Institute (HMTRI) graduate and is a Qualified Safety Sales Professional (QSSP). His expertise includes OSHA Compliance and OSHA Written Program Knowledge. Malcolm has a keen eye for identifying non-compliant hazards in the workplace and conducts plant safety assessments, audits and trainings to ensure Customers pass OSHA requirements, meet OSHA standards and avoid hefty fines.
Charlie Hall, CSP, CRSP
Safety Training Consultant
Charlie has been in the safety industry for over 30 years. He is a Certified Safety Professional (CSP) and a Canadian Registered Safety Professional (CRSP) who specializes in Work-At-Heights Fall Protection, Confined Space Entry with Rescue, Gas Detection and Monitoring Procedures, Safety Audits, Lockout/Tagout/Verify Tasks and Assistance with Written Company Safety Plans. He has many published articles to his name and has been involved in the design, specifying and arranging production of safety equipment such as the Portable Board Anchor Kit currently used by the outdoor advertising industry.
Safety Training Courses and Inspection Case Study
We help companies improve worker safety and regulatory compliance.
To learn more, read one of our success stories.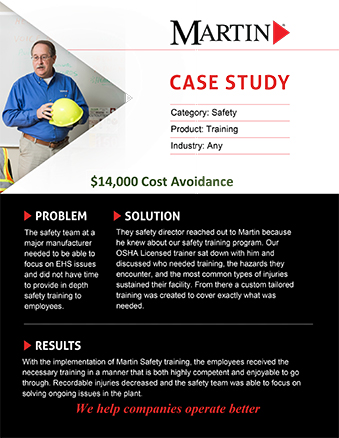 Cost Savings $14,000
Training
The safety team at a major manufacturer was struggling to provide in-depth safety training to employees while focusing on the company's EHS issues. After collaborating with Martin's OSHA licensed trainer, we custom-tailored a training plan to meet their needs and decrease recordable injuries.
READ MORE