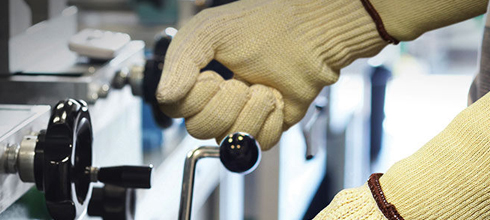 By Martin Supply •
On the job, it's important your outfit works with the basics of safety: Hard hats, gloves, safety glasses, hearing protection, breathable clothing, and the proper shoes.
But what about arm protection?
With major veins and arteries running through our arms, protecting this body part is a vital – but an often overlooked – aspect of workplace safety. As with safety gloves, different environments require different types of arm protection. By having a variety of protective arm sleeves available, you can provide each employee with the perfect, safest it for their arms.
The three steps to identify the right protective arm sleeves are:
1. Know the Danger
Are you looking to prevent cuts, scrapes, and abrasions? Then you need a high-level cut protection sleeve. Are you working in high-heat? You'll want a heat-protection sleeve. Dealing with dirt, grime, and general wear and tear? Your best bet is a cotton sleeve.
2. Request Sleeve Samples
Comfort and safety go arm in arm. When your workers are comfortable on the job, they'll be more efficient. But, the only way to find the right sleeve for the job is to request samples. PIP can provide samples of different fabrics before you make the decision to buy.
3. Ensure Correct Sleeve Sizing
Sleeves come in various lengths, from 10 inches to 22 inches, so finding the right size is important. Also, all arm sleeves have the option for a thumb slot to keep the sleeve from rolling up the arm. To make sure you have the right size and fit for your sleeves or other safety wearables, contact your Martin Sales Rep. who can create a custom-tailored solution for your safety needs.
For more information on PIP sleeves, talk to your Martin Sales Rep or visit MartinSupply.com.